Atheist groups unveil latest advertising campaign
LONDON - The consortium of atheist groups behind January's London bus campaign with the tagline "There's probably No God," unveiled today a billboard campaign to coincide with the UN's Universal Children's Day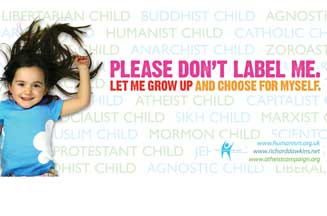 Billboard adverts have gone up in London, Edinburgh, Cardiff and Belfast.

The ad campaign coincides with the launch of a fundraising campaign to lobby for the phasing out of state-funded 'faith schools'.

Ariane Sherine, original creator of the Atheist Bus Campaign, said children should have the freedom to grow up and decide for themselves what they believe.

'I hope this poster campaign will encourage the government, media and general public to see children as individuals, free to make their own choices, and accord them the liberty and respect they deserve.'

The posters display some of the labels routinely applied to children that imply beliefs such as 'Catholic', 'Protestant', 'Muslim', 'Hindu' or 'Sikh' mixed up together with labels that people would never apply to young children such as 'Marxist', 'Anarchist', 'Socialist', 'Libertarian' or 'Humanist'.

In front of the shadowy labels are happy children, with the slogan, 'Please don't label me. Let me grow up and choose for myself'.

Richard Dawkins, vice president of the British Humanist Association HA and co-sponsor of the campaign, said.: 'Nobody would seriously describe a tiny child as a "Marxist child" or an "Anarchist child" or a "Post-modernist child". Yet children are routinely labelled with the religion of their parents. We need to encourage people to think carefully before labelling any child too young to know their own opinions and our adverts will help to do that.'